Techniques for Blood Loss Estimation
Techniques for blood loss estimation in major non-cardiac surgery: a systematic review and meta-analysis
Tran A, et al. Can J Anaesth. 2020
Estimated blood loss (EBL) is an important tool in clinical decision-making and surgical outcomes research. EBL guides perioperative transfusion practice and serves as a key predictor of short-term perioperative risks. EBL can also be used to predict long-term oncologic outcomes. But despite its widespread use in everyday clinical practice and research, there is no gold standard for estimating blood loss during surgery. Tran and colleagues systematically reviewed and compared techniques for estimating intraoperative blood loss in major non-cardiac surgery. Their objective was to inform clinicians on the best methods of estimating blood loss.
The authors identified studies up to the year 2020 comparing methods for intraoperative blood loss estimation in adult patients undergoing major non-cardiac surgery. They summarized agreement between groups of pairwise comparisons as visual estimation vs. formula estimation, visual estimation vs. other, and formula estimation vs. other. For each of these comparisons, the authors described tendencies for higher or lower EBL values, consistency of findings, pooled mean differences, standard deviations, and confidence intervals.
The authors included 26 studies with over 3,000 patients in their analysis. Visual estimation was the most frequently used technique. However, visual estimation techniques tended to provide lower EBL values than formula-based estimation or other techniques. When accounting for the mean blood loss, similar case-to-case variation exists for all estimation techniques.
In conclusion, based on the review of the literature, the authors suggest that a formula-based technique of estimating EBL may be most suitable as a universal, more practical, and more reproducible method for intraoperative blood loss evaluation.
Below are a few formulas for estimating the blood loss.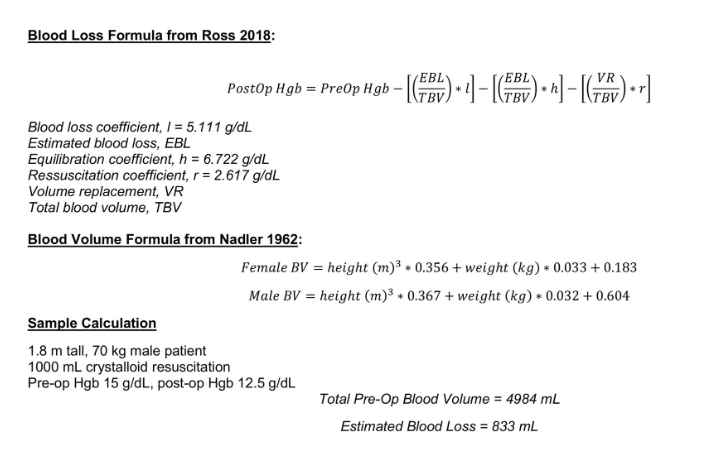 Figure 1. EBL formulas.
Suggested Readings:
Tran A, Heuser J, Ramsay T, McIsaac DI, Martel G: Techniques for blood loss estimation in major non-cardiac surgery: a systematic review and meta-analysis. Can J Anesth 2020; 68:245–55.
American Society of Anesthesiologists Task Force on Perioperative Blood Management. Practice guidelines for perioperative blood management: an updated report by the American Society of Anesthesiologists Task Force on Perioperative Blood Management. Anesthesiology 2015; 122: 241-75.
Ross SW, Christmas AB, Fischer PE, et al. Defining dogma: quantifying crystalloid hemodilution in a prospective randomized control trial with blood donation as a model for hemorrhage. J Am Coll Surg 2018; 227: 321-31.
Nadler SB, Hidalgo JH, Bloch T. Prediction of blood volume in normal human adults. Surgery 1962; 51: 224-32.